The compensation conversation can be one of the trickiest parts of the hiring process for both employer and candidate. My clients are constantly asking me to share some comp data for construction positions. With well over a decade of experience placing construction executives for national home builders all across the country, I've collected plenty of data to offer informed guidance and share salary averages across regions. Although compensation for the same position can truly be all over the map (no pun intended!), I can share salary averages by region for the five positions I recruit for most often:
Division President
CFO

Controller
VP of Construction
Purchasing Director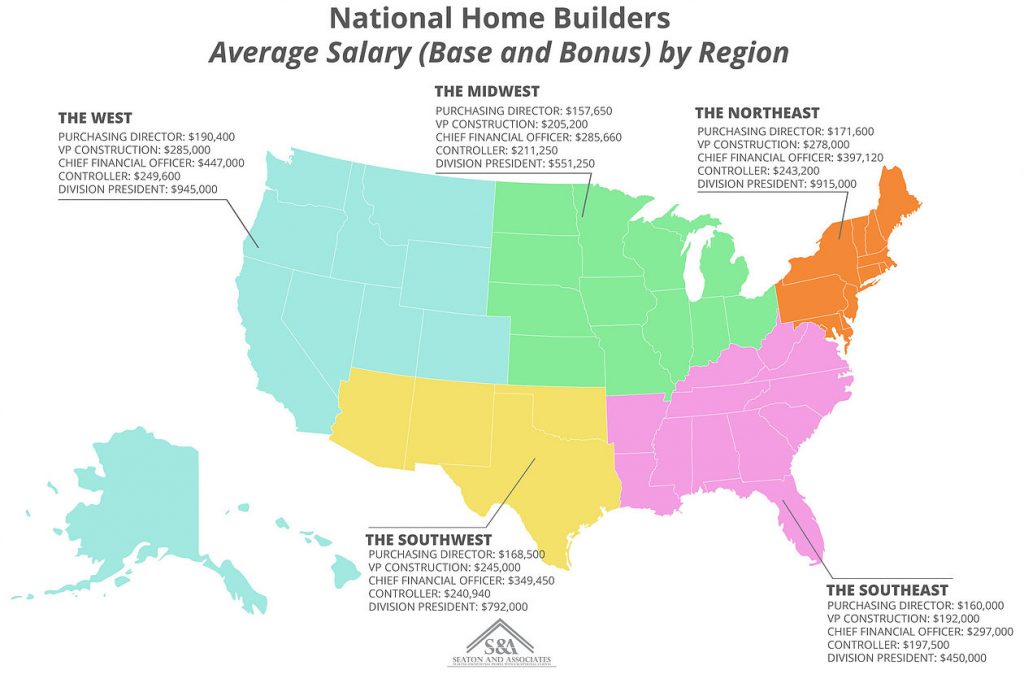 THE WEST
Phoenix and Las Vegas are leading the pack in new home construction in the western United States. In August, new home sales in the West were up 9.1 percent despite affordability concerns in the region. California tops the nation in residential construction workers with over half a million residents working in home building. However, there are still 20 percent fewer people employed in the residential construction industry than 10 years ago. Labor shortages and the rising cost of materials has sent home builders on the hunt for top talent that can deliver profits amidst the challenges. Executive poaching is a common practice among home builders, which is ironically driving costs up. This coupled with the high cost of living in many areas means salaries across the board for residential construction positions are at an all time high in the West.
THE SOUTHWEST
Double-digit job growthfrom 2010-2014 sent home builders flocking to Texas. Dallas, Houston and Austin had pulled building permits for a total of 130,000 new homes by August of 2017, accounting for more than 10 percent of last year's total construction expected across the nation at that time. Hurricane Harvey flooding many homes in Houston and other Texas southeastern cities in late August resulted in a huge spike in demand for new home construction and labor in 2018. New Mexico home sales were up 28 percent in May of 2018 from the previous year and Tulsa, OK was listed as one of the top 10 real estate markets of 2018. As is typical of many industries, salaries generally adjust down in this region due to lower cost of living, but not at the same rate as the cost of living adjustment — meaning residents can afford more in these states even with lower salaries. But the sheer demand for qualified workers due to the number of new home construction projects fuels competition among builders to lure the best talent, which drives salaries up.
THE SOUTHEAST
The southeast housing market hasn't boomed at the rate of the Southwest and can't command the real estate prices of the West. While there's definitely demand for new home construction and a healthy construction job market in expanding metro areas, such as Charlotte, Nashville, New Orleans, Raleigh and Orlando, the region as a whole skews a little lower in salaries than the West and Southwest — although just slightly compared to the Southwest. In the expanding metro areas and areas needing to be rebuilt because of natural disasters like hurricanes Maria (FL) and Florence (NC and SC), home builders are paying a little more due to competition.
THE MIDWEST
The Midwest has not experienced the upward swing in home prices that other regions have and didn't rank as high as other regions in population growth. Chicago was recently rated the most affordable of the large metropolitan cities and has actually experienced a decline in home prices despite population growth and a healthy economy. Minneapolis/St. Paul and Boise, Idaho and Cincinnati have all experienced positive population and job growth, yet remain affordable. With less new construction, home builders aren't competing as much for talent, which is why this region ranks the lowest for construction salaries. However, a healthy economy, job growth and affordable housing are all the ingredients needed to start driving people to the Midwest. This region is well positioned for the next real estate boom.
THE NORTHEAST
It's no surprise here that in major metro areas, such as New York and Boston, real estate is scarce and expensive. The cost of building is prohibitively high in some cities, which has caused new home construction to be a little more stagnant in this region. However, D.C. and Rochester have notably expanding housing marketsand new construction is up. High cost of living and fewer qualified candidates drive salaries up, making the Northeast rank #2 among regions for highest salaries.
While location itself is not typically considered a factor in driving salary range decisions, salaries do trend by region, state and metro area. But for better or worse, real estate booms and busts. Today's hot job market may cool off in the next couple of years and another area will take its place. As I always tell my clients, money is not the only way to attract quality talent, and for millennials, it's not even the best way. But I hope this map helps give you an idea of what your competitors are paying around the country and what kind of numbers recruiters are throwing out to the candidates they're calling.
A CLOSER LOOK…
Most residential home builders compensation structure for these positions is base salary, plus a bonus, which varies based on employee and company performance. I've calculated average bonuses to reach the total comp numbers. Below are maps with a breakdown of base salary, plus bonus for each position by region.
DIVISION PRESIDENT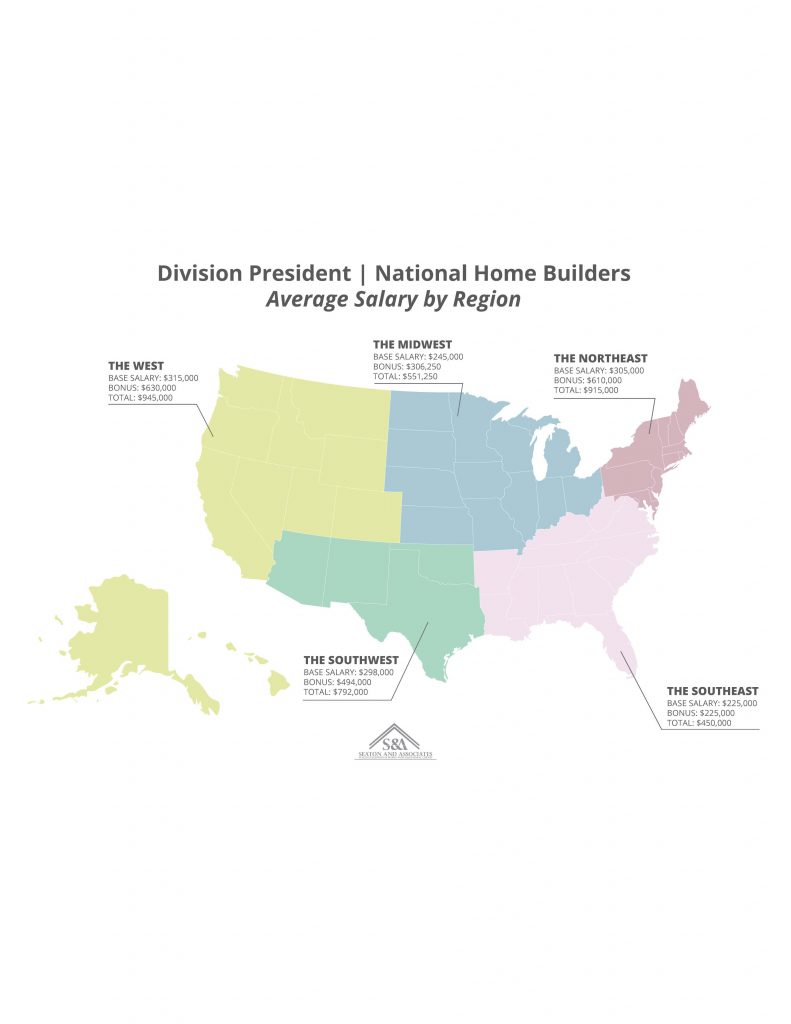 VICE PRESIDENT OF CONSTRUCTION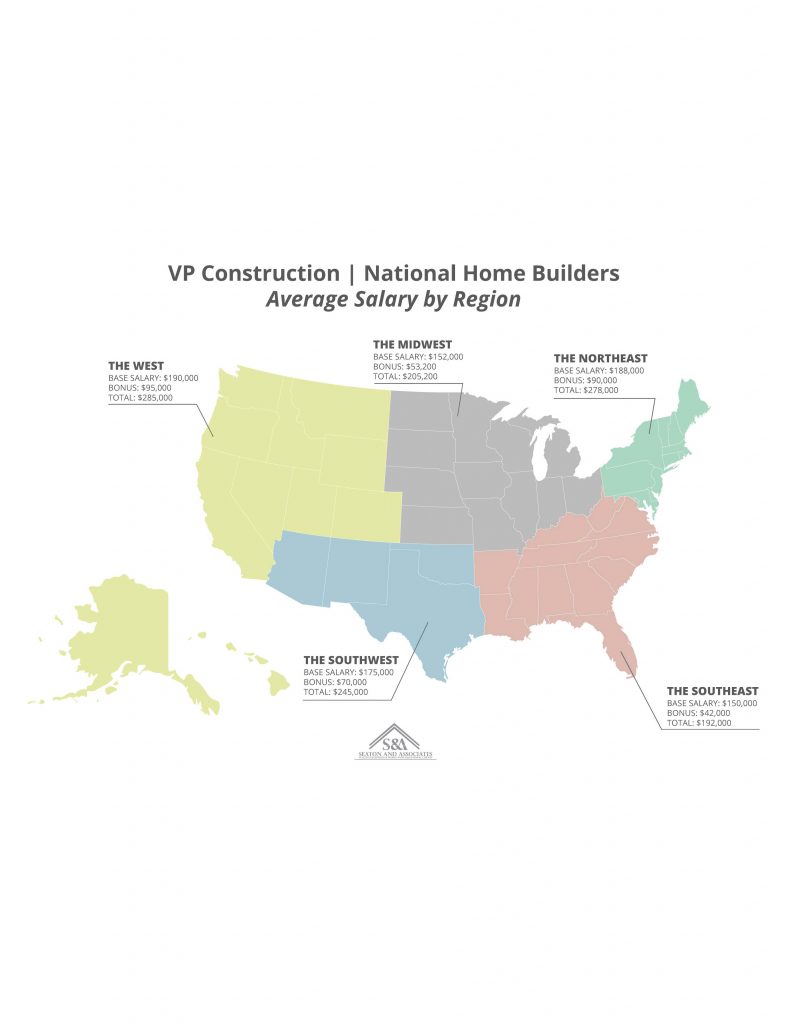 CFO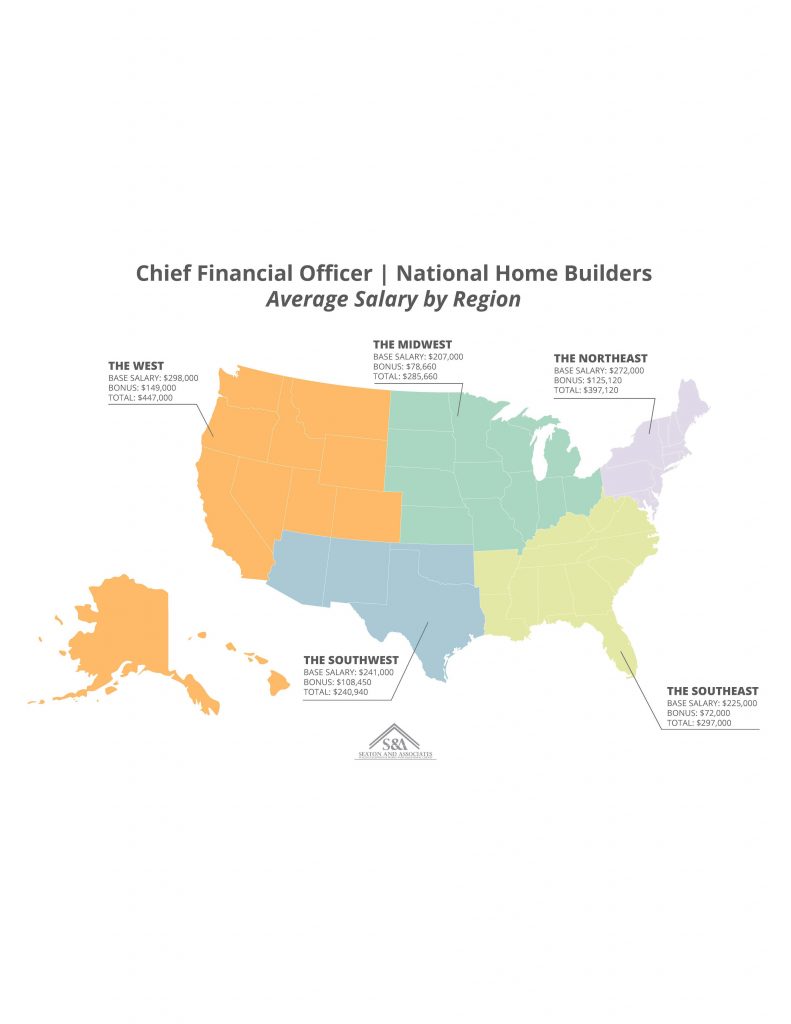 CONTROLLER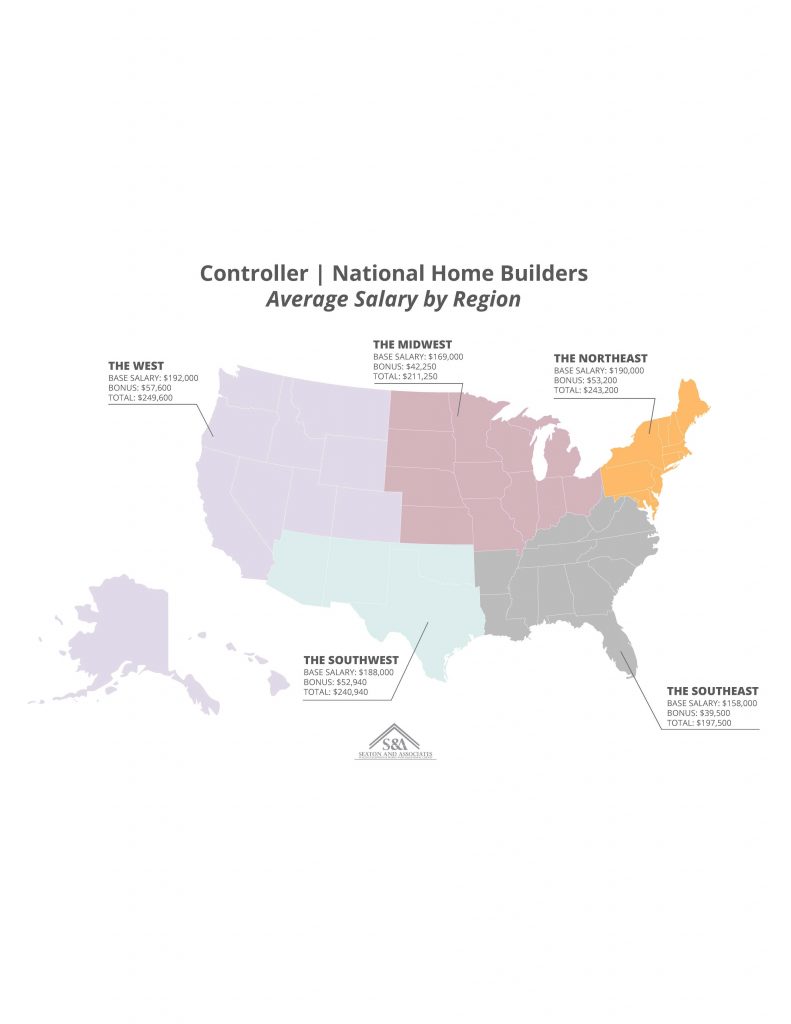 PURCHASING DIRECTOR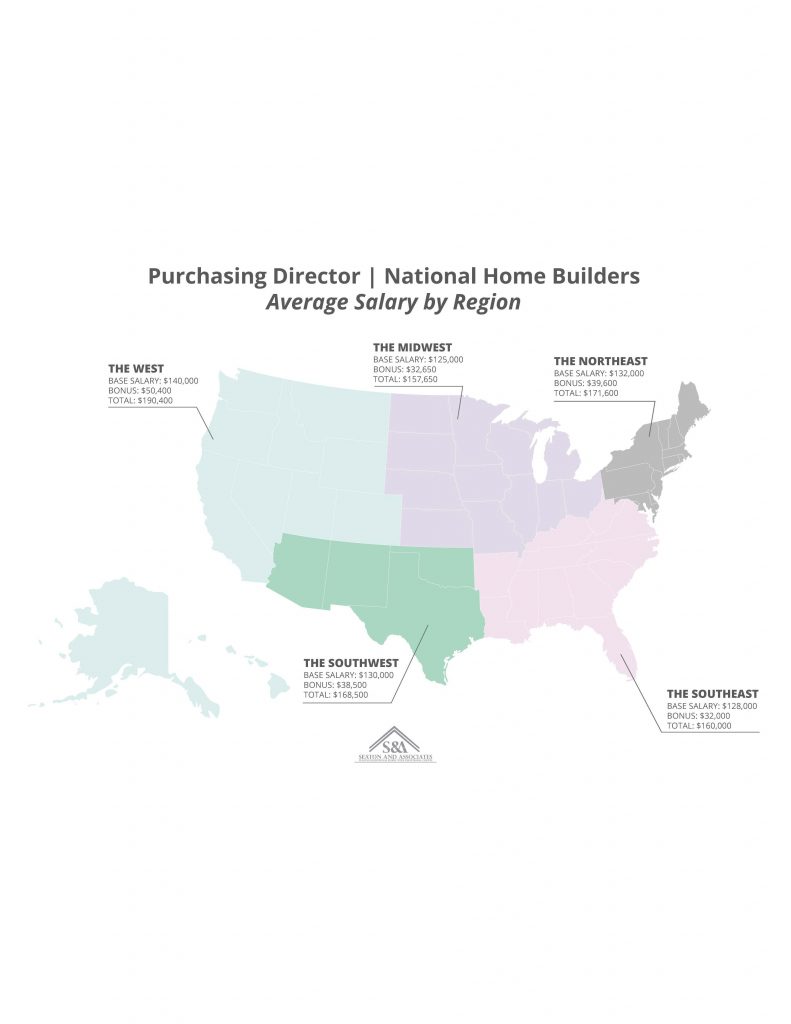 *Salary data collected from 2016 – present from placements with regional or national home builders for the positions listed. Salary averages are based on hundreds of placements made through Seaton and Associate and partnering firms. This material is based on our recruiting experience and current public information that we consider reliable, but we do not represent it as accurate or complete, and it should not be relied on as such. Collected data compared with salary information provided on Salary.com and Payscale.com.