Summer 2021 is coming to a close. Although it hasn't been without challenges, so many good things happened! Below is a list of 10 things that happened this summer that are worth celebrating.
Simone Biles Put a Spotlight on Mental Health. The only thing better than watching Simon Biles compete? Watching her choose her mental health over "winning at all costs". It takes more courage to admit vulnerability than it does to push it down. She did the right thing for herself, her team, and her country. Way to go, Simone!
Vacations Happened. Many Americans were able to take a much-needed vacation this summer. While many pandemic precautions are still in place, people traveled, supported the tourism industry, and enjoyed friends and family. That's worth celebrating!
The Hybrid Work Schedule. Employees proved the viability of working remotely in many industries. Hundreds of companies have responded by offering a work-from-home or hybrid work schedule option to their employees. Whether or not this change is around to stay remains to be seen, but the majority of professionals are loving the freedom and flexibility of their new work schedules.
Cargo Ship Stuck in the Suez Canal Set Sail Again. The Ever Given, one of the world's largest cargo ships, made international news when it got stuck in the Suez Canal in March, blocking global marine traffic for six days. It spent months under seizure and finally set sail again on July 7th. Could there be a better metaphor for 2021?
Blind Dog Raced Across the Beach. This viral video shows a blind rescue dog racing across a beach, and its joy is contagious. This dog was left blind and brain damaged by cruel owners. He was rescued and adopted by Anne and Jon Ashmore and taken on holiday to a Scottish beach. We're as happy for you to be at the beach as you are, buddy!
Olympic Dressage Horse Wowed Viewers with Dance Moves. Dressage is not one of the most popular events as far as viewers go in the Olympics. However, in Tokyo this year, a horse nicknamed Mopsi (known by the internet as "rave horse") and his U.S. rider Steffen Peters showed off their rhythm and delighted viewers as they danced to an upbeat mashup created by musician Taylor Cade. The video has garnered over 2.6 million views. View on Twitter here.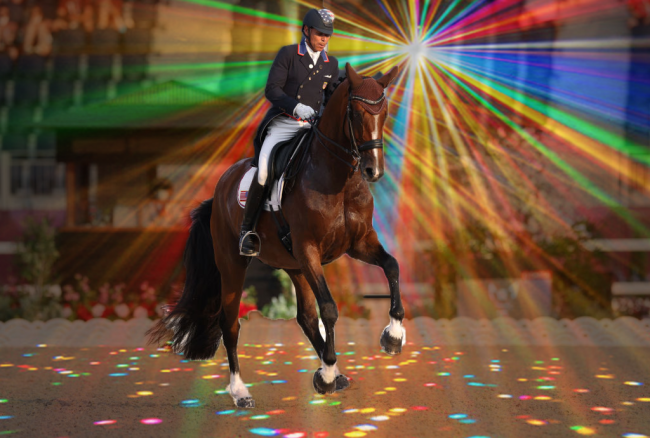 Maryland Students Invented a Wheelchair Stroller for Teacher's Husband. A group of students at a Maryland high school created two types of stroller attachments for wheelchairs – one for infants and one for older children. The inventions were created for pregnant teacher Chelsie King and her mobility-impaired husband Jeremy King. The completion of the project coincided with her due date perfectly. "Using it was overwhelming because I never thought I would be able to do something like this with our son," Jeremy King said. "Most people can go out on a walk with their family but that is really difficult for me — most people take that for granted."
This Kid Gave a Priceless Reaction to Getting Novak Djokovic's Racquet After the French Open. Djokovic won the French Open in an amazing comeback victory that delivered his 19th Grand Slam title. Perhaps even better than the match itself was little boy Roland Garros' priceless reaction to receiving Djokovic's match racquet. Djokovic said in his press conference the kid was cheering for him and encouraging him the entire match, even giving him tactical advice on how to win points! Safe to say he made this kid's day. You can watch the video here.
South Carolina Man Flooded with Cash and Car Donations After His Story is Featured in the Media. Restaurant owner and trained mechanic Eliot Middleton of South Carolina repairs non-working vehicles and donates them to people in need. He started a non-profit in 2020, shortly after the death of his beloved father whom he worked alongside as a mechanic for 17 years. Middleton said the idea came to him in 2019 when he noticed the citizens of his rural community in Awendaw, SC walking home after coming to receive a Thanksgiving meal. His first car went to a single mother of a disabled child who regularly needed to go to the hospital for treatment, and since then he's given cars to 32 families in need. His story made national news in July, which triggered donations of more than 800 cars and over $100k in cash.
Seaton and Associate Clients Hired A LOT of People! Despite challenges created for organizations by the pandemic, companies are hiring! Seaton and Associates made dozens of placements this summer, helping companies fill their talent needs and candidates grow their careers. We opened a new office in Scottsdale, AZ and hired new recruiters to meet the unprecedented demand for talents we're getting from clients all over the country.
I would love to hear some of the great moments you witnessed or experienced this summer! Please share in the comments below.