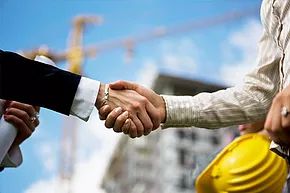 April 5, 2018 | Sherry Seaton
As a home builder, your workforce is one of your most valuable assets. The success of any project is a direct reflection of the skill of the workers who completed it and the managers who supervised it.
Finding the right people to join your team can be time-consuming and distracting. To save time, money and resources, you may choose to work with a recruiting agency. While all agencies can perform the same basic functions, they're not all the same.
Your recruiting agency is helping you build and strengthen the backbone of your company, and it's your job to select one that understands your unique needs and can deliver results.
How do you know you're partnering with the right one? Here are 10 questions home builders should ask potential recruiting agencies before they hire one.
Do you only recruit for the construction industry? Many agencies claim to specialize in the construction industry but are not fully committed to it, meaning they don't have the knowledge, expertise, and connections that a truly niche construction recruiting agency does. A recruiting firm that recruits only for the construction industry will be 100 percent tapped into the hiring market, have a more intrinsic understanding of the skills and experience you need and is more likely to have strong relationships with the industry's top talent.
What are your recruitment strategies? Some agencies use pre-screening tests and verification steps to ensure the candidates they source are as skilled as they say they are. Others rely more on their industry expertise and candidate relationships to source high-quality candidates. Familiarize yourself with the agency's approach and decide if it compliments your hiring approach. Ideally, you want to keep the candidate experience consistent.
What other home builders do you recruit for? Look at the recruiting agency's client list for home builders with similar needs. Ask specific questions about those relationships, like what positions they've filled for those home builders and how long they've been clients. Loyal, long-standing clients speak to the agency's reputation and its quality of work.
Where do you source your candidates? The quality and size of the agency's candidate network is critical to its ability to bring you the best talent. Your recruiter should be able to give you specifics about the size and make-up of their talent pool — How do they build and nurture relationships with candidates? What tools and tactics do they use to source candidates? How do they keep their database fresh?
Do you have a candidate in mind for my position? Most recruiters will answer "yes" to this question whether they have a specific candidate in mind or not. However, probing a little further can help reveal if they really understand who you want for the position. Ask them to share some details about the candidates that come to mind — work experience, skill sets, personality. You'll be able to quickly reveal if a recruiter is full of hot air.
What current trends or recruiting issues should I be aware of? Your agency should be able to share recent recruiting trends and issues specific to the construction industry. For example, they should be aware of recent laws or amendments related to equal pay or immigration compliance and how they affect recruiting. They should also be able to give you a pulse on what candidates are looking for and what other home builders and construction companies are offering.
How do you measure client satisfaction? A recruiting agency who is a true partner will measure and keep track of their clients' satisfaction levels. While it may not be a formal process or score, a good recruiting agency will not disappear once a candidate is placed and wait for the next call. Your recruiter should be able to tell you how they follow up with clients to gauge their satisfaction with recent placements.
What's your success rate in placing long-term candidates? This statistic speaks to the agency's grasp of its industry, its clients' needs and the candidate pool. High turnover is, unfortunately, a big challenge for construction companies. If an agency specializing in construction recruitment has a high success rate for long-term placements, you can feel confident they're good at what they do.
How do I pay you and what do you charge? Recruiting agencies do not all charge the same rate or in the same way. Make sure you know what payment system they use and how much the process will cost you. Ask how they handle placements that leave after a short period of time and what that time period is.
What makes you different from other recruitment agencies? An agency should be able to articulate their unique value proposition clearly, succinctly and convincingly. You're trusting them to communicate yours and use it to convince the best construction talent that they should be working for you.
My unique value proposition? My agency has been exclusively recruiting for home builders and construction companies for over 10 years. My candidate pool is made up entirely of construction talent, and I've spent years building and nurturing those relationships. Home builders trust me to bring them the best talent and I do, which is why 90 percent of my clients hire me again and again. If you're a home builder looking for a recruitment agency to partner with, I'd love to chat. Contact us today!
Tags: